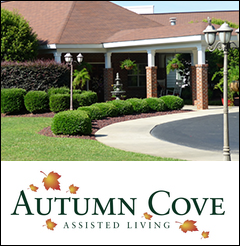 Phoenix Senior Living announces the addition of a senior living community to their growing southeastern portfolio. Phoenix Senior Living (PSL) will assume management of Autumn Cove Assisted Living, and the assumption of business operations will offer unified assisted living and memory care options to the Anniston, Alabama senior living market effective July 1, 2021.
Phoenix Senior Living, founded in 2014, is a privately held senior living operator with over 30 communities throughout the southeast. Autumn Cove Assisted Living will add to the growing Alabama senior living holdings by PSL. Founder and CEO of PSL, Jesse Marinko, remarks, "We are excited to assume business operations of this property, and serve the Anniston and Oxford, Alabama communities with our brand of exceptional family-focused care." He adds, "The opportunity to be a leader in quality assisted living and memory care in the northeast Alabama market is something we don't take lightly."
Headquartered in Roswell, Georgia, Phoenix Senior Living's leadership is a dedicated and passionate Executive Team with an aggregate of 90+ years of seniors housing experience. Focusing on high-quality care with exceptional amenities, the company currently operates over 30 communities in their Southeast footprint.
A hallmark of the Phoenix brand is their unique Live, Love, Learn philosophy, which is conveyed into every aspect of their care programs, and is intentionally designed to coincide with the National Wellness Institute's Six Dimensions of Wellness; Emotional, Physical, Cognitive, Occupational and Spiritual Wellness. Phoenix provides residents and families with a meaningful and joyful experience from their very first interaction at each community. The company was founded by the ideal what when it comes to your loved one, everything matters. Influenced by their Southern roots and industry experience, the company takes pride in fostering a secure, positive, and unified environment with the support of dedicated and skillful employees.
For more information, please contact Phoenix Senior Living at 678-214-2900.