Our Healthy & Vibrant  Lifestyle!
The Phoenix at James Creek is a premier assisted living community with an extensive range of planned activities and events designed to support our Live, Love, Learn philosophy. Our balanced lifestyle approach presents each resident with the opportunity to participate in activities that promote their individual wellness. Events and activities with certified instructors, literary events, local entertainment, and organized games are just a few examples of activities available at our community.  
Purpose and engagement is always just around the corner with various themed evening events and day excursions. Whether it's enjoying a culinary demonstration from our chef, a lively conversation with friends, or a great read from our library, there is always a stimulating activity for seniors to engage in at The Phoenix at James Creek.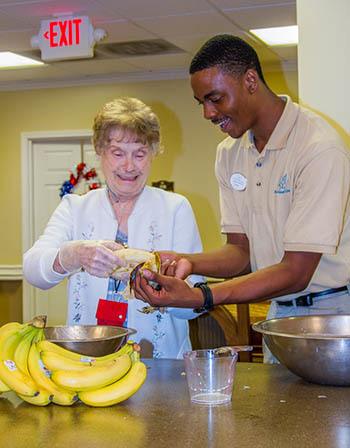 Best of the Best for All
At The Phoenix at James Creek, we take pride in the seniors that reside with us who carry decades of professional experience and vast areas of expertise and interest. Our strong commitment to intergenerational programs include consistently bringing our newest generation together with our wisest generation, knowing seniors enjoy sharing their individual experiences and knowlege.  Our intergenerational programs include educational, interactive events with the outside community such as:
•    Scouting projects
•    Literary events
•    Art & Music 
•    Kids Kamp in the summer 
•    The list of youthful fun goes on!