Creating Purposeful Days
The Phoenix at James Creek specializes in caring for seniors who experience Alzheimer's and the many forms of dementia. We understand the toll memory loss can take on families as well. The Phoenix at James Creek can help manage the various stages of living with someone with Alzheimer's or dementia. Our Memory Care Neighborhood is designed to simulate a comfortable home-like environment. Relevant mementos and furnishings are carefully designed to create a peaceful and familiar environment, coupled with active reminiscing daily. When living with memory loss, cultivating a successful day isn't always easy. Our caregivers proceed with patience, compassion, and respect in all circumstances. Each day, The Phoenix at James Creek enforces the philosophy that every senior can live a purposeful life – no matter his or her current stage of memory loss.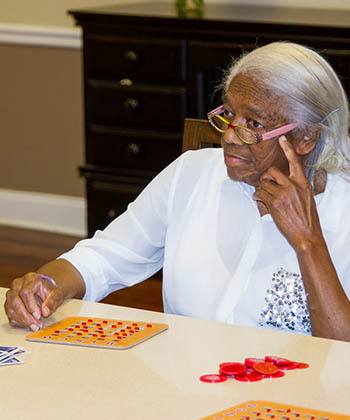 Compassionate Care by Design
Our objective at The Phoenix at James Creek is to provide specialized memory care services seven days a week for your loved one. Each day, our trained specialists work to develop individual skills and measure residents' progress. We are staffed with Certified Dementia Practitioner's (CDPs) certified through the National Council of Certified Dementia Practitioners.
The following additional accommodations are made for residents in the Memory Care Neighborhood:
Medication management
Specialized dining options and table settings
Hydration program
Active and purposeful interactions
Family events and monthly support groups
Continence management