Superior Dining at The Phoenix at Johnson Ferry
We welcome you to indulge in an unparalleled dining experience at The Phoenix at Johnson Ferry. Our master chef delivers culinary masterpieces with each meal. Choice meats, fresh herbs, and nutritious garden vegetables are served with culinary precision. Restaurant style dining, coupled with great company, promote social wellness and make meal time an enjoyable one. Our chef tastefully prepares modified and restricted meal plans to meet the needs of your loved one. An experienced, courteous wait staff serves deliciously wholesome meals to create a wonderful culinary experience from breakfast to dinner. We invite you to stop by for a delectable treat and taste the difference for yourself!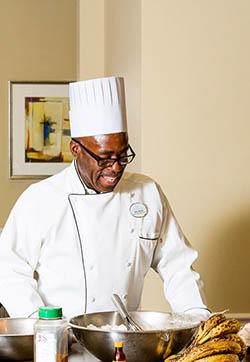 Breakfast
Berry Berry Pancakes
Fluffy Pancakes made with fresh berries and grilled to a golden brown, served with a Maple Syrup & creamy butter
Lunch
Chicken Salad with Fresh Berries
Diced chicken, tossed with a Creole Mustard, mayonnaise, honey, diced pimento, and green onions. All served on a bed of mixed greens
Grilled Grouper
Grilled Grouper served with fresh spinach and tomatoes on a Hoagie Bun and topped with a garlic mayonnaise, served with chef's choice of sides.
Dinner
Corn Bread Crusted Fish
(Fish of the Day) topped with crumbled cornbread served with black eyed peas, smoked sausage, peppers, onions, red wine & garlic sautéed together and topped with fresh tomato relish.
Dessert
Our Signature Berry Loaf Bread
*Menu items are subject to change.