Our Promise to You
At The Phoenix at Johnson Ferry, we integrate our Live, Love, Learn philosophy into everything we do. Our daily activities, calendar of events, and special programs are designed to coincide with the National Wellness Institute's Six Dimensions of Wellness: Emotional, Physical, Cognitive, Occupational (Sense of Purpose), Social, and Spiritual Wellness. Our skilled teams work together to ensure our assisted living residents, day club seniors or short term care guests are actively engaged in each of the six dimensions of wellness every day. This is measured with the following benchmarks in mind:
Exhibits a positive attitude – Emotional Wellness
Exercises regularly – Physical Wellness
Engages in intellectual or cultural activity – Cognitive Wellness
Sets goals – Sense of Purpose
Socializes with friends and family – Social Wellness
Spends time in prayer and/or meditation – Spiritual Wellness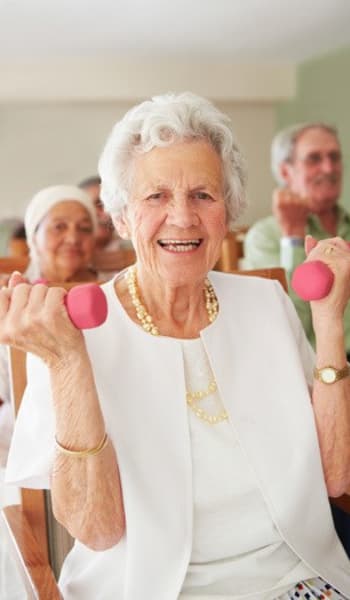 An Active Life Stems Off Depression
In our 30 years of serving and caring for seniors, we have discovered that seniors who are actively engaged are less likely to be diagnosed with depression. The executives and associates at The Phoenix at Johnson Ferry design activity programs to keep seniors connected. These programs, which are outlined in an activity guide and made accessible to all associates, provide very descriptive programming instructions, as well as identify our residents' preferences.
Activities offered include:
Nature exploration
Arts and crafts
Dakim brain fitness
Stress reduction exercise
Worship opportunities
Tai Chi/Qui Gong
Volunteer opportunities
Cocktail hours
Themed social gatherings