A Soft Place to Land

Our Memory Care Neighorhood

The Phoenix at Johnson Ferry specializes in caring for seniors who are diagnosed with Alzheimer's and the many forms of dementia. We understand that memory loss can be emotionally exhausting for caretakers. The Phoenix at Johnson Ferry can help you manage the very real highs and lows that come with living with Alzheimer's or dementia. Our Memory Care Neighborhood is specifically designed to simulate a familiar home like setting. Relevant memorabilia and home furnishings are purposefully implemented to cultivate a tranquil environment, along with assisted active reminiscing daily.

Creating a productive day isn't always easy when dealing with memory loss, but our caregivers maintain a patient, compassionate, and respectful approach with each and every resident of our Memory Care Neighborhood. The Phoenix at Johnson Ferry believes and actively supports the philosophy that every senior can lead a purposeful, peaceful life.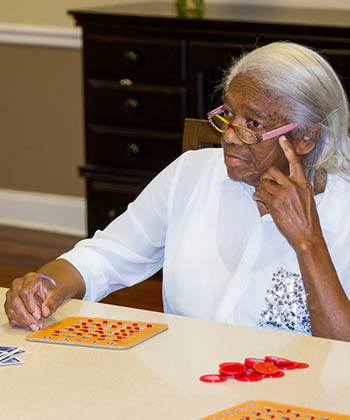 A Proven Track Record
The Phoenix at Johnson Ferry provides specialized memory care services seven days a week. Every day, our trained team of specialists develops and measures the individual skills of each resident. With a team of Certified Dementia Practitioners (CDPs) Certified by the National Council of Certified Dementia Practitioner (NCCDP), we are equipped to care for your loved one, and provide consultation to family members. Some of our offerings include:
Active and purposeful Interacting
Continence management, Hydration program, Medication management
Cognitive Engagement
Specialized dining options and table settings