Cultivating a Purposeful Day
The Pearl at Jamestown specializes in managing the highs and lows of individuals living with Alzheimer's or the various forms of dementia. We understand the affects memory loss can have on family and caregivers. We welcome the opportunity to care for your loved one at The Pearl at Jamestown. Our Memory Care Neighborhood mimics a comfortable home-like setting. Relevant memorabilia and familiar furnishings are carefully designed to invoke a peaceful environment. Our outdoor courtyards and beautiful pathways, designed for strolling, are available to our residents. Our skilled staff cares for each senior with patience, compassion, and respect in all circumstances. Each day, The Pearl at Jamestown team embraces the philosophy that every senior can live a purposeful life – no matter his or her condition.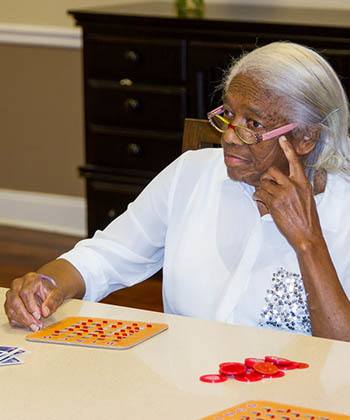 Expert Care with Compassion
At The Pearl at Jamestown, we offer memory care services seven days a week. Each day, our trained associates work to develop individual skills and measure residents' progress. With cognitive building activities like Active Reminiscing and special accommodations made throughout the day, we make the adjustments necessary to ensure our seniors' needs are met.
We are a team of Certified Dementia Practitioners (CDPs) Certified by the National Council of Certified Dementia Practitioner (NCCDP). We are equipped to care for your loved one, as well as educate family members. It is our goal to assist you and your loved one in the following areas:
Medication management, Continence management, Hydration program
Specialized dining options and settings
Active and purposeful interactions, Family events and monthly support groups