For Immediate Release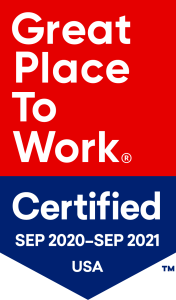 Great Place to Work Institute has honored Phoenix Senior Living (PSL) with certification as a Great Place to Work for the third consecutive year. The certification process considered more than 1,000 employee surveys from across PSL's over 30 locations. Great Place to Work, an independent research and consulting firm, evaluated more than 60 elements of team members' experience on the job. These included employee pride in the organization's community impact, belief that their work makes a difference, and feeling their work has special meaning. Rankings are based on employees' experiences, no matter who they are or what they do.
CEO Jesse Marinko remarks, "Phoenix Senior Living has a culture all its own, and we're proud that we are again recognized for being a great place to work. We work hard to provide a work environment where individuals feel like family, and that is an ideal we strive to pass on to our residents." He adds, "Our rich history of diversity, hard work, and economic vitality helps make us who we are, and I couldn't be prouder of our team for earning this recognition three years in a row."
Phoenix Senior Living employs over 1500 dedicated team members. PSL provides opportunities help both frontline team members and team managers find success through training programs and experiences that allow them to continue career paths in the industry. To support the matriculation of nursing staff to further their degrees, such as advancement from LPN to RN, PSL established education grants which are also available to frontline staff endeavoring to receive CNA licensure. To celebrate the work and value of frontline staff, PSL hosts the EPIC Awards, a black-tie award ceremony highlighting the service, enthusiasm, and dedication of community-nominated frontline staff across the PSL communities.
"We applaud PSL for seeking certification and releasing its employees' feedback," said Dr. Jacquelyn Kung, of Great Place to Work's senior care affiliate Activated Insights. "These ratings measure its capacity to earn its own employees' trust and create a great workplace for high performance."
About Phoenix Senior Living
Phoenix Senior Living is a privately held senior living operator and was founded in 2014 on the ideal what when it comes to family, everything matters. A hallmark of the PSL brand is their unique Live, Love, Learn philosophy weaved into every aspect of their care programs and is intentionally designed to coincide with the National Wellness Institute's Six Dimensions of Wellness; Emotional, Physical, Cognitive, Occupational and Spiritual Wellness. Phoenix Senior Living provides residents and families with a meaningful and joyful experience from their very first interaction at each community. Influenced by their Southern roots and industry experience, the company takes pride in fostering a secure, positive, and unified environment with the support of dedicated and skillful employees. For information please contact Phoenix Senior Living at 678.214.2900 or visit www.phoenixsrliving.com.
About Great Place to Work
Great Place to Work is the global authority on high-trust, high-performance workplace cultures. Through its certification programs, Great Place to Work recognizes outstanding workplace cultures and produces the annual Fortune "100 Best Companies to Work For®" and Great Place to Work Best Workplaces lists for Millennials, Women, Diversity, Small & Medium Companies, industries and, internationally, countries and regions. Through its culture consulting services, Great Place to Work helps clients create great workplaces that outpace peers on key business metrics like revenue growth, profitability, retention and stock performance. Learn more at www.Greatplacetowork.com.